119 Must-Have RV Accessories You Should Know About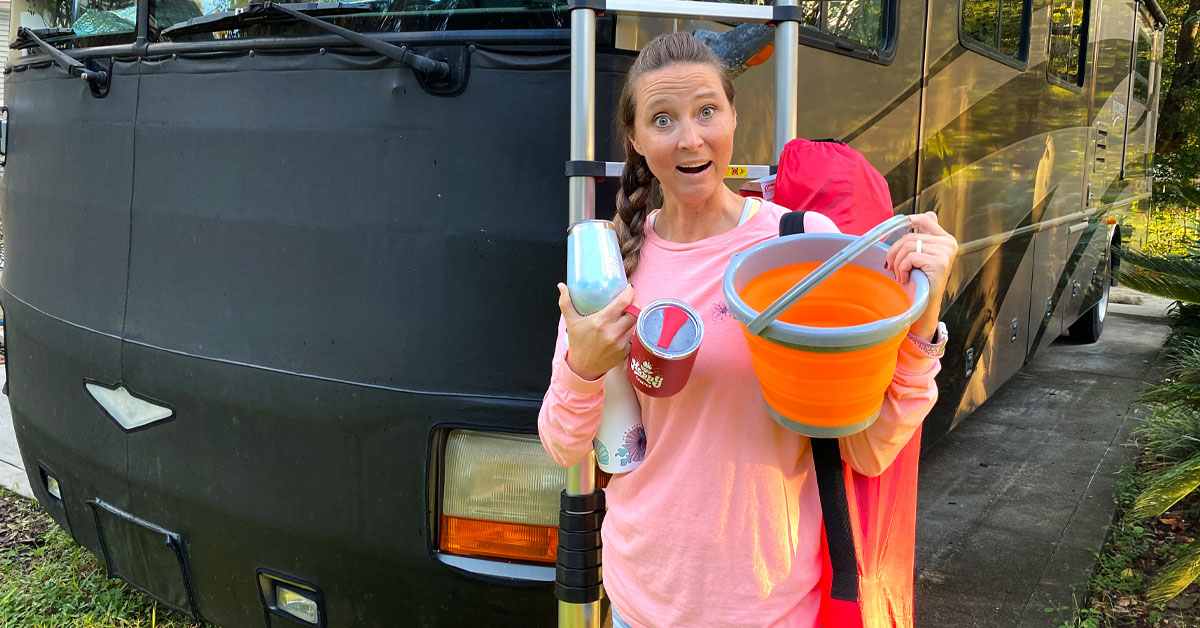 When we bought our very first RV, we had RV friends who lived the lifestyle for a few years. They all told us to plan on dropping at least $1,000 on the RV accessories you'll need for your RV.
I am the kind of person who likes to prove people wrong (yes, I have a strong personality). So, I set out to prove it would not cost much to actually get everything we needed to hit the road. I thrift shopped quite a bit and initially, we outfitted our RV for much less. However, over time we've found we'd added more accessories and gadgets that make RV Life easier. So, it's not that you MUST have everything on this list, but we think you'll find some helpful tools you might not have thought about.
We organize these by category for easy reading too! Here is the list of the top RV Accessories you might want to think about adding to your camping "must-have list"!
RV Accessories For Outside
Outdoor RV Rug
Outdoor rugs are nice for keeping dirt OUTSIDE and not in your RV or camper. It's also nice to be able to step outside barefoot to grab something from an outside storage compartment quickly when you need it. If you have a longer-length RV (ours is 40 feet) you might want to make sure the rug you get is long enough (or get two of them to cover the length you need.)
An outdoor rug for an RV provides several benefits, including:
Comfort: Outdoor rugs can provide a softer, more comfortable surface to walk or lounge on, compared to the hard, sharp, and often hot, surfaces of campground sites (like the sharp coral rocks found at Florida Keys campgrounds. Hey, I'm not complaining!
Style: Outdoor rugs can add a touch of style and personality to an RV's outdoor space, and can also coordinate with other outdoor decors.
Protection: An outdoor rug can help protect the surface beneath it from scratches, scuffs, and other types of damage.
Versatility: An outdoor rug can be used to create different functional areas in the RV's outdoor space, such as under a clam tent, or play area.
Convenience: An outdoor rug is easy to clean and maintain, and can often be rolled up and stored in the RV basement compartment when not in use, making it a convenient and practical choice for RVers.
Water Pressure Regulator
There are two versions of water pressure regulators – adjustable and non-adjustable. The main reason you want one on hand is to keep the water pressure from becoming too high (the end result of having blown-out water lines inside the RV). So a basic non-adjustable one will do the trick, HOWEVER, in our experience, these also seem to restrict the water pressure (showering in your RV is not fun when this happens). Water pressure in an RV is already a challenge, you do not need anything else that causes a lack of water pressure. We use this adjustable water pressure regulator that allows us to have better water pressure while protecting our RV.
Waste Tank (Black Tank) Treatment
The smell can be an issue in RV holding tanks. The black tank can be especially problematic if the proper care and treatments are not used. For example, did you know using bleach to clean your RV toilet can make black tank smells WORSE? Bleach kills ALL bacteria. And in a black tank, you WANT the right (healthy) kind of bacteria to break down waste. We use the tank treatment AND toilet cleaners from Unique Camping + Marine. We have a 15% discount on all their products (and our other top RV products) on our partner's page as well.
Gray Tank Treatment/Cleaner
Many people know about treating the black tank, but what about the gray tank? The gray tank holds wastewater from the sinks and shower (and washer/dryer if you have one). While this water isn't quite as "gross" as the blank tank liquids, smells from things like food grime washed off dishes, etc can still be an issue.
The gray tank is used to store wastewater from sinks, showers, and other sources, and without proper treatment, it can become a breeding ground for bacteria and other harmful organisms. Gray tank treatment products contain powerful bacteria that are designed to break down waste and eliminate unpleasant odors, keeping the tank clean and safe. These treatments also help to prevent clogs and backups in the tank, ensuring that it operates smoothly and efficiently. By using gray tank treatment, RV owners can avoid unpleasant smells and unsanitary conditions, and ensure a comfortable and safe environment for themselves and their passengers.
So, we recommend using a good gray water tank treatment from time to time not only to help with smells but also with keeping the tank clean, preventing worse issues later.
Sewer Hose Ladder – A great RV accessory to have!
You've probably heard the saying about 💩 flowing downhill. Well, the same is true with your RV black tank when connected to full hookups. Some campgrounds require the sewer hose to NOT be on the ground. Plus it's just a good idea to make sure you have the proper angle to drainage from the waste tanks.
Sewer Hose
Some RV's will come with a sewer hose – most won't. We really like the Rhino sewer hose kit as it is versatile and holds up well – even if one of the kids happens to step on it! Yes, we know this from experience.
I cannot tell you how many times we've pulled into a campsite to realize the sewer hookup is far away from where the RV needs to be parked. It's super frustrating to realize after you are mostly set up that the sewer hose won't reach! We carry an extra 10-foot hose when the hookup is far from where the RV is parked in the campsite.
An RV sewer hose is an essential piece of equipment for anyone who owns an RV. This hose is used to connect the RV's waste-holding tank to the sewer inlet at the campsite. This allows for easy and convenient disposal of waste, without the need for manual handling or dumping.
RV sewer hoses come in a variety of sizes, materials, and designs. The most common material used for these hoses is PVC plastic, which is durable, lightweight, and resistant to punctures and tears. Some hoses are reinforced with steel or other materials to increase their strength and longevity.
When choosing an RV sewer hose, it is important to consider the length you will need, as well as the size of the sewer inlet at your campsite. It is a good idea to purchase a longer hose than you think you will need, as this will give you more flexibility in where you can park your RV. I typically get a regular-size sewer hose, then a 10 foot sewer hose extension kit.
Additionally, many RV sewer hoses come with fittings or adapters that allow for a secure connection to the RV's waste-holding tank and the sewer inlet.
Using an RV sewer hose is straightforward. Simply attach one end to the RV's waste holding tank and the other end to the sewer inlet. Make sure that the connections are tight and secure to prevent any leaks or spills. Once the hose is connected, you can safely and easily dispose of your RV's waste by pulling the black and gray tank valve.
Dog Bone Adapters
These are electrical adapters that allow you to use different-size hookups. For example, if you have a 50 amp connection and have a campsite that only offers 30 amp service, you need an adapter to still plug into the different style outlet. The same goes for if you are "moochdocking" and need to plug your RV into standard household power. There are several different sizes and styles depending on what your needs are. We carry a dog bone for 30 amp and household service.
A dog bone adapter for RVs is a device used to adapt the power source of the RV to a different type of electrical outlet. RVs typically have a 50-amp power supply, which is not compatible with 120v standard household electrical outlets or 30-amp outlets that are the only option at some campgrounds. This adapter allows the RV to be connected to a standard electrical source when camping at RV parks or campgrounds.
This adapter is shaped like a bone, hence the name "dog bone," and it provides a convenient and easy solution for RV owners to connect to power sources when traveling. With a dog bone adapter, RVs can access power for their essential electrical systems, including lights, air conditioners, and refrigerators. This one allows you to go from a household 120v to the 50amp cord on your RV.
A 50 to 30 amp is also recommended to have on board in the case 30amp service is only available. We carry both in our basement compartment just in case!
Extension Cord
Just like there are dozens of reasons to need an extension cord in a sticks-and-bricks environment, there is a myriad of uses for one when it comes to RVing. We typically use an extension cord when parked at a friend or relative's house for the night to be able to plug into household power. You also never know when you might want to plug in a fan outside, need a battery charger for a vehicle, and more.
Drinking Water Hose
To connect to city water at the campground or to fill water at a water station, you will need a hose. You will want a DEDICATED hose for drinking water only, so having a SEPARATE hose for water is important. We like the Zero-G brand since it collapses down.
2nd Hose For Rinsing Outside
Since you'll want a separate hose for drinking water and most of the time if you are at a campground with full hookups, you will leave your water connected. A second hose to rinse off the feet, the dogs, the surfboards, etc. is nice to have.
No products found.
Hose Splitter – A little-known RV Accessory
Using two hoses means you will need two water spigots but you will only have one. You will need a hose splitter to have two water sources. We like this one because it has longer handles to turn the water off and on. Some of the ones out there can be difficult to switch off/on. We have this one and it hasn't let us down yet!
RV Leveling Blocks
If you find a perfectly level campsite, you've found a unicorn! Most sites are not level and some are extremely not level. Having some leveling blocks helps when your RV leveling system is maxed out and your rig still isn't leveled out.
Wheel Chocks (For Pull Behind RVs)
We've seen more than once when someone does NOT use wheel chocks and their camper moves forward into their truck – or worse, drops down on the hitch. Wheel chocks are a must and an important safety item.
Softstart RV – Money Saving RV Accessory
SoftStartRV is a LIFESAVER for RVing in warm weather climates. This device enables you to run two a/c's on only 30 amps (or even run 1 a/c on a standard household power)!
SoftStartRV is a company that specializes in providing high-quality RV electrical components. They are known for their patented SoftStart device, which is designed to help reduce the strain on an RV's electrical system when starting high-power appliances, such as air conditioners or refrigerators. This device can extend the life of your RV's electrical system and protect it from damage, making it an essential item for RV owners.
The SoftStart device works by gradually increasing the power to the appliance, rather than suddenly putting a large load on the electrical system. This helps to reduce the surge of power that can occur when starting high-power appliances, which can cause damage to the electrical system over time. The device is also designed to be compact and easy to install, making it a great option for RV owners who want to protect their rig.
In addition to the SoftStart device, SoftStartRV also offers a range of other RV electrical components, including surge protectors, transfer switches, and power management systems. These products are designed to be reliable, easy to use, and easy to install, making them a popular choice for RV owners.
SoftStartRV is a company that takes customer satisfaction seriously, and they offer a 30-day money-back guarantee on all of their products. They also provide comprehensive customer support and technical assistance, so you can be confident that you will have all the information you need to make the best decision for your RV.
To learn more about HOW SoftStart works you can check out the video below where we were able to install these on our rig, and are so happy we did. The discount we were able to negotiate for you on SoftStartRV is CHEAPER than you will find on Amazon or anywhere else!
Battery Organizer
Do you have your batteries thrown into a junk drawer or in a plastic baggie? We love our battery organizer for the RV. This container holds the most used battery types for everyday use and fits compactly in an RV drawer or cabinet. Plus, one of my favorite accessories included is a battery tester that will test if the battery is good or bad.
Portable Waste Tank
We've stayed at many campgrounds where there are partial hookups. The most common utility missing at partial hook-up campgrounds is the sewer. Also, when boondocking or "moochdocking" there is no access to any utilities. Our gray tank will fill up fast when we are camping – our black tank usually lasts our family of 4 about 5 days.
Most campgrounds with partial hookups have a dump station on site. However, when you are set up in your campsite, with your slides out, the last thing you will want to do is pull in the slides, bring in the jacks, unhook, etc to drive over to the dump station.
This is where a portable waste tank comes in handy. A portable waste tank for RVs is a mobile holding tank that allows RV owners to store and transport wastewater from their camper or motorhome. This type of tank is designed to be easily moved and emptied when necessary, providing a convenient solution for managing wastewater while on the road. Portable waste tanks are especially useful for RVers who frequently travel to remote locations or areas without access to sewer hookups.
They provide a safe and hygienic way to store and transport waste, preventing the risk of leaks and spills and avoiding unsanitary conditions. Portable waste tanks are available in a variety of sizes, and they often come with features such as built-in wheels, sturdy handles, and leak-proof lids for easy transport. With a portable waste tank, RV owners can travel with peace of mind, knowing that they have a safe and convenient solution for managing their wastewater.
You can empty your waste tank into the portable tank, then haul it to the dump station. Moving the RV is not required! Most portable waste tanks fit nicely on the back of the RV ladder.
Solar Powered Motion Lights
Having something to illuminate the way when you need to pull something out of a storage compartment after dark is a must! Having motion lights is also a good idea for security purposes. These solar-powered lights are an easy add-on to the outside of almost any RV.
Tire Pressure Monitoring System (TPMS)
We cannot stress how much of a "must-have" this is! We've seen it literally save people's lives! While most newer vehicles come equipped with a tire pressure monitoring system, most RVs do not. Knowing if you have a tire that is getting low, getting too hot, or too high of tire pressure can prevent a blowout.
For several years we used the TST tire pressure monitoring system. It worked fine and no major complaints. We recently were introduced to the TireMinder system and installed this system instead. We've decided we like it much better than the TST for several reasons. The main reasons are it's SUPER EASY to program the sensors, all tire status shows on 1 screen AND they have a lifetime battery replacement program.
We also noticed if it does alarm, it doesn't keep alarming after the initial alarm, requiring user intervention while driving. This is nice because if you have an alarm for low tire pressure due to cold ambient temps, you might not want to worry about adding air over 1 or 2 PSI of pressure. To have the unit keep alarming after the initial warning sound means you have to take a hand off the steering wheel to silence the unit.
With the TireMinder units, after that initial alarm is sounded, the unit goes silent. It's a great notification to look over at the monitor to see what is going on without having to take your hands off the steering wheel. We've been able to secure a discount for our readers on a TireMinder TPMS!
We've partnered with TireMinder and TechnoRV to be able to offer 5% off a TireMinder system. Use code GLAMPER5 at checkout to get a discount. You cannot get this cheaper on Amazon, e-trailer, or camping world.
Solo Stove
I love the warmth and coziness of a campfire but I don't like smelling like the campfire. Nor do I like the clean-up after having a campfire. And because of this, we did not do campfires or fire pit nights often.
That was until we discovered Solo Stove. The Solo Stove is as close as you will ever get to a "smokeless" fire. Strategically placed holes in the double-wall structure of the fire pit draw in air from the bottom and feed the heated oxygen to the top, resulting in a spectacular secondary burn. The best part? Nearly no smoke and minimal ash left to clean! And better yet, it's portable! They even come with a "carry case" making it super easy to throw in the storage compartment of the RV.
We can now all enjoy s'mores again without the messy clean-up (more on that later in this post so keep reading)!
Blackstone Griddle
When we first started RVing, we got a little Coleman portable grill. After setting it up and taking it down several times, it just did not hold up. Plus, if we wanted to grill vegetables, we had to carry a grill basket as veggies will fall through the grates on a "traditional" grill. The Blackstone griddle was the perfect solution to a grill/griddle all in one. Cooking on this griddle will allow for perfect steaks, bacon, eggs, you name it. Shrimp and Veggies have been one of our favorite quick, easy-to-make meals! The main benefits of a Blackstone griddle are:
Versatility: Blackstone griddles can quickly cook a wide range of foods, including pancakes, eggs, burgers, steaks, and vegetables. This versatility allows you to cook an entire meal on one surface, saving time and making outdoor cooking more convenient.
Large Cooking Surface: Blackstone griddles have a large cooking surface, providing ample space for cooking large meals or multiple dishes. This makes it ideal for family gatherings, picnics, and other outdoor events. They have several burner options (single, double, etc.), options with a cover, and a lighter-weight "adventure-ready" version without the cover that you would use while cooking. We recently picked up the adventure-ready 22-inch version with a carry bag, so if you follow us on our channel, we will be sure to keep you posted on what we think about it.
Even Heat Distribution: Blackstone griddles are designed to provide even heat distribution, ensuring that your food cooks evenly and thoroughly.
Durability: Blackstone griddles are made with high-quality materials, making them durable and long-lasting. They are designed to withstand the elements and are built to last for many seasons of outdoor cooking.
Convenient Clean-Up: Blackstone griddles are easy to clean, with a smooth surface that makes it simple to wipe down after use. This makes it a convenient option for outdoor cooking, as it reduces the amount of time and effort required for cleaning. Don't forget to pick up some of these grease cup liners, which make clean-up a breeze!
A Blackstone griddle provides many benefits for outdoor cooking, making it a versatile and convenient option for those who enjoy cooking and entertaining outdoors.
Hammocks
You never know when you will find that amazing campsite with two trees close enough to set up a hammock! Our kids LOVE to swing at the playground, so most of the time when we set up our hammocks, the kids are using them as swings. It's amazing how many times the kids will spend HOURS on the hammocks swinging and playing. It's like being able to set up a mini playground in the middle of the forest. There are dozens of hammocks on Amazon, but the ones we like are the Bear Butt brand.
RV Ladder Mounted Bike Rack
We sometimes bring just the kid's bikes, and other times we bring all 4 bikes. The ladder-mounted bike rack is our go-to rack since it can stay attached to the ladder at all times. The arms swing out of the way for climbing the ladder when the rack is not in use holding the bikes. Plus, it gets the bikes up and out of the way for travel. We will also lock the bikes up to the ladder with a simple lock as an added security measure.
Collapsible Trash Can
We have used a collapsible trash can off and on during our 4 years of RV Living. If you are the kind of person who likes to spend a lot of time outside, it's nice to have an "extra" trash can for when you are outside the RV. And since RV storage space is at a premium when it comes to RV Living, any accessories that fold down when NOT in use are always a plus!
Awning Sunshade Extension
The sunshades that attach to an RV awning are a great add-on accessory. It's helpful to keep the sun off the side of the RV, but also to have a more of a "private" area for your campsite. These shades can also help cut down on bugs and other unwanted creatures.
Portable Surge Protector
A portable or built-in RV surge protector is a must for protecting your RV's electrical system. If there is a problem with the electrical pedestal at the campground and something is not wired correctly, you are at risk of damage to the entire RV electrical system. Any damage to the electrical system of course means costly repairs. This can all be prevented with a quality surge protector. You simply plug this into the electrical connection and then plug in your RV electrical cord to the surge protector. The surge protector we like (and use) is by progressive industries since it also shows if there is an issue with the indicator lights. It also comes with a metal loop so you can lock the surge protector up to the electrical pedestal. We have never worried about theft, however, it's a great option to give you peace of mind at the campground.
Brass Hose Elbow
When hooking up the water to your RV, the hose will naturally have a slight kink because of how the water hookup on the RV is mounted. Using a brass elbow can help keep the fittings on your water hose and your RV from prematurely wearing out. We also use these water hose fitting quick connectors, which allow us to quickly connect & disconnect the hoses.
RV Slide Out Rubber Seal Conditioner and Protectant
RVs will quickly deteriorate without proper maintenance. Adding slide-out conditioner to the slide seals from time to time helps keep the seals in good condition and not getting brittle from the sun, causing them to crack (reducing the seal). While you are maintaining your slide seals, we also recommend you lubricate the slide-out as well to reduce premature wear on your slide. This also helps slide-outs to operate smoothly without sticking, protects against rust and corrosion as well as repels dirt and grime.
Eternabond Tape – The MacGyver of RV Accessories
This stuff can help you out in a pinch! Most RV roofs are made from a rubber EPDM (ethylene propylene diene terpolymer) material that can easily tear from low-hanging tree branches. Even a small hole in a roof can cause major water damage. Regularly inspecting the roof and repairing it as needed can prevent larger problems in the future. While there are proper kits for repairing tears in a roof, eternabond tape is great when in a pinch and you do not have access to a proper repair. We've also seen RVers use this when having experienced major damage and needing to "patch" things together to prevent leaks. Some will also run this along the entire seam of the RV for added protection from leakage.
Bike Rack
Remember how earlier I talked about the ladder bike rack? We usually put two bikes on the ladder, then if we bring all the bikes we will add two more bikes on a hitch mount bike rack. This works great as it gives us the option to have a place to also store the bikes when not in use. The bikes usually can stay on the rack without issue. The type of rack we use where the wheels sit at the bottom of the rack makes it easy to get them on and off.
Map of the USA
This RV states map is one of our most asked-about RV accessories. It's so fun to fill in each new state as we visit. The kids also are learning geography along the way and they enjoy adding stickers onto the map as we visit each state.
Gazebo Tent
Any type of gazebo tent is nice to have when you are set up at a campsite for a while. You can use it as a "garage" to put bikes and scooters in or for a bug-free outdoor space (super helpful in areas where there are a lot of flies or mosquitos). We've also seen many families that use these screen rooms as a play area for the kids as well.
Telescopic Extension Ladder
Having a ladder while you're out on the road is a must. From needing to fix roof trim to accessing windows, etc. you'd be surprised how many times you'll need a ladder. Most ladders are bulky and take up a lot of space, however, this folding telescoping ladder is perfect since it folds up nicely and is compact to put in the storage compartment of an RV.
Disposable Gloves
We keep a box of disposable rubber gloves around as they come in more often than you would think. From everyday cleaning to dumping the black (sewage) tank, you will just feel better using a pair of disposable gloves. Plus, being a mom, there is always the occasional "kid incident" where they can come in handy. Disposable gloves are a must for both RV Living and family life.
Small Cordless Drill
There are dozens of times when in the course of RV Life you will need to unscrew or tighten something, make repairs, etc. Having a smaller cordless drill makes these types of tasks much easier.
Basic RV Tool Set
RVs will break, it's not a matter of IF, but WHEN. Every time you have a travel day, your RV experiences a series of earthquakes. Things shake, become dislodged, connections get loose and the list goes on. Having a basic toolset you can keep in your RV is very helpful. Remembering to take things back and forth between a sticks/bricks house and your RV (if you're not full-time) can result in something being forgotten. To resolve this issue, we keep a separate small toolset in the RV and they are the "RV Tools." We try to keep duplicates of as many things as possible.
Here are some ideas of things on our Amazon shop you can keep duplicates of. If you're downsizing and going full-time, chances are you don't need all the tools you did at home (plus they get heavy the more you bring). You can downsize to a smaller set for RV Living.
RV Accessories For Inside
Rope Bins
Having bins that are flexible (soft-sided) for storage inside the RV are helpful to keep things in place but also to maximize all the storage options with no wasted space. Since contents will shift on travel days, keeping items in bins helps to prevent things from getting broken or misplaced. And more importantly, it helps keep you safe when opening those cupboard doors after a travel day! I've purchased rope bins at Target, Lowes, Home Goods, etc.
Microfiber or Turkish Travel Towels
When we first started living the RV life, we used the same terry cloth towels used in our sticks/bricks house. However, we learned quickly that finding a place to hang them to dry completely was difficult at best. You can't really hang them on a hook to dry unless you have at least 3 days to wait. So you have to find an actual towel bar to hang them up. Well, there just isn't a ton of space in an RV bathroom for towels hanging flat on a towel bar. We switched over to a microfiber travel towel and we can hang them all to dry on hooks to dry super fast! We like and use the ones from Venture4th. You can save 25% by using the code: 25OFF259 at checkout on Amazon.
Mobile Internet Hotspot
Internet on the road is a must, especially if you are not retired. Campground WIFI is very unreliable and you hardly ever rely on good connectivity or speeds from a campground connection. Having your own internet while you travel is pretty much the standard for RVers and digital nomads alike. We actually have three different hot spots. One through T-mobile (Travel Data), one through AT&T, and one through Verizon. We chose to do this since we need to have reliable internet wherever we go. We've found if there is not a good Verizon signal, we usually will have a signal through either T-Mobile or AT&T.
2 Way Radios
When we get to a campsite, one of us is a "spotter" (typically Charity) while the other one is parking the RV on the site (Ben). We use our cell phones to communicate with each other when there is service, BUT there is the occasional time that we are in an area with NO cell service, where radios come in very handy. We've also had times where one of us was driving the Jeep and the other one was driving the RV and having 2-way radios (walkie-talkies) makes communication possible in these situations.
RV Mattress
"This stock mattress that came with our RV is the most comfortable thing I've ever slept on", said no one! For whatever reason, RV Mattresses from the factory are just not comfortable. There are dozens of options for replacements out there, but we've found a 12-inch memory foam mattress from Amazon was a great comfort AND budget-friendly option. Most people upgrade their RV mattresses right out of the gate and this is the mattress we went with when we upgraded. Be sure to use the coupon code "grateful" at checkout for a special discount!
Oxygenics Shower Head
Water pressure in an RV isn't always the best. And because you actually have to regulate the water pressure to make sure it's not too far about 65-70 PSI anyways, water pressure can be an issue when showering. The Oxygenics showerheads actually help to increase shower pressure. It's an easy swap out of the old showerhead to the new one too.
Instant Pot
I use my instant pot for most of our meals in the RV. Tacos? Just use the sauté button, brown your meat, and add seasoning. Rice? Use the rice button. Hard-boiled eggs are super easy, and many more options too. I got the smaller version to keep in the RV since I'm not cooking for an army even if we do have another family over for dinner.
Collapsible Bowls
Anything that collapses down is your friend when it comes to RV Living! Since storage and weight are precious commodities, having something that folds down is best.
Collapsible bowls are a great option for RVers who are looking to save space in their vehicle. These bowls offer several benefits that make them ideal for use in an RV:
Space-saving: Collapsible bowls are designed to be compact and lightweight, taking up minimal space when not in use. This is especially important in RVs, where storage space is limited. When not in use, these bowls can be easily stored in a drawer or cupboard, freeing up valuable counter or shelf space.
Convenient: Collapsible bowls are easy to use and are perfect for outdoor activities, such as camping, picnicking, or tailgating. They can be filled with food, snacks, or drinks, and then easily collapsed for storage. This makes them convenient for RVers who are always on the move and need a compact and easy-to-use option for food storage.
Durable: Collapsible bowls are made with high-quality materials that are designed to be durable and long-lasting. They are often made with BPA-free plastic and silicone, making them safe for food use and resistant to cracking, breaking, or tearing.
Easy to Clean: Collapsible bowls are easy to clean, with smooth surfaces that make it simple to wipe them down after use. They are also dishwasher safe, which further reduces the effort required for cleaning.
Versatile: Collapsible bowls come in a range of sizes and colors, making them versatile and suitable for a variety of uses. They can be used for eating, serving, or storing food, and are ideal for use in an RV, where space is limited.
Induction Cooktop
This was one of the BEST upgrades we've ever made to our RV! We love using this for a cooktop vs. the traditional propane stove-type cooktop that most RVs come with. Our favorite part of this upgrade is an induction cooktop that doesn't put out heat. Rather it uses magnetic technology to create heat in the pan for cooking.
Pots/Pans
I am a minimalist at heart. This is why I have 1 sauté type pan and 1 pot. I do not need more than this since I also use an instant pot for cooking. Because we need induction-compatible cookware, I wanted to invest in something high quality but did not want to drop a fortune on a whole new set of cookware. This is why I recommend the stainless steel cookware from Cookware360. They are made in the USA, are durable, and are induction compatible and if you get JUST what you really need for RV living (one pot, one pan) it doesn't break the bank. We also have a discount code for Cookware 360 – using the code GLAMPER20 at checkout will save you 20%.
RV GPS
Using an RV-specific GPS does not ensure you will never accidentally find yourself on an "RV unfriendly" road, but it can definitely help you avoid things like low bridges, narrow streets, etc. We have the Garmin 770 that we purchased a few years back. There is a newer version of the Garmin RV Specific GPS which we listed below.
An RV GPS is a specialized navigation system designed specifically for recreational vehicles. There are several benefits to using an RV GPS, including:
Routing for RVs: An RV GPS is designed to take into account the unique routing needs of recreational vehicles, including weight, height, and length restrictions, low overpasses, and winding roads. This allows RVers to plan their routes more efficiently, avoiding narrow roads, low bridges, and other obstacles that could cause damage to their vehicle.
Real-Time Traffic Updates: An RV GPS provides real-time traffic updates, helping RVers to avoid congested roads and areas with heavy traffic. This helps to save time and reduces the stress of driving, making it easier to reach your destination.
Points of Interest: An RV GPS often includes a comprehensive database of points of interest, such as campgrounds, RV parks, and rest areas. This helps RVers easily find places to stay, refuel, and rest along their route.
Ease of Use: An RV GPS is designed to be user-friendly, with large, easy-to-read displays and intuitive interfaces. This makes it simple for RVers to plan their routes and navigate to their destination.
Increased Safety: An RV GPS provides a more efficient and safe driving experience, helping RVers to avoid roads that are not suitable for their vehicle. This reduces the risk of accidents and makes it easier to reach your destination safely.
An RV GPS is an essential tool for RVers, providing a range of benefits that make it easier and more convenient to plan your route and navigate to your destination. With features such as real-time traffic updates, points of interest, and ease of use, an RV GPS helps RVers travel with confidence and enjoy their time on the road.
We highly recommend using some navigation for RVs specifically. You essentially program your RV's weight and height to the GPS unit, which can help avoid getting into situations where an accident could occur due to tight spaces, low bridges, etc.
Wire Racks/Wire Bins
These types of bins can be used in cabinets, and storage spaces but ALSO mounted to the walls. They come in white and black so if used mounted to the wall, you can match almost any decor.
Ikea Bins
Ikea is a great place to find all sorts of things for small living. I love using their bins vs. bins from places like Dollar Tree because they are of higher quality. I use Ikea bins (Variera) in places like our fridges, cabinets, drawers, and more. Especially in the fridge, they help to keep things from sliding around on travel days. Items such as carbonated beverages will EXPLODE in your face if they move around too much. Trust me, I speak from experience here. Using bins in the fridge to keep things in place is the only way I put drinks in the fridge now.
Closet Organizer
Having a way to store things like towels, shoes, sheets, blankets, etc is helpful. Since our RV is a diesel pusher, we cannot install anything into the closet that cannot come out easily. This is because we need access to the engine area which is under the floorboard of the closet. So when putting things in the closet, we have to think about how easy it will come back out if need be. Using a hanging closet organizer is helpful since it can easily be taken off the clothes rack and pulled out if need be. It also does not weigh much, so when weight is a consideration, this is a great way to organize without building heavy shelves, etc.
Interior Rugs (Washable or Replaceable)
Area rugs just make an area feel more like home. Because we try to take off shoes when coming into our RV, it does help to keep dirt out. However, rugs will get dirty from time to time. I wanted rugs that I could either wash and clean or just replace if needed. This shag-style rug on Amazon is my favorite because it can be washed in a large washer but also it's fairly inexpensive, so I can replace it when it's just not as clean or fluffy as it once was.
Small Broom & Dustpan
I like to keep a small-ish handheld broom and dustpan near the front door to sweep out the RV, then brush off the steps. We sweep at least 1x a day, but also when getting ready to move the RV on travel days. Everything is swept out the front door, the front steps are swept as well as part of our "pack down" process.
Command Hooks
Command hooks will be your best friend during RV Life! From hanging up lightweight items such as dishtowels to heavier items like backpacks, command hooks are a great option. You can find command hooks that will hold heavier items as well. I use a larger command hook to hang my backpack WITH my laptop IN it. These hooks also make great use of empty wall space. Anytime you can use wall space in the RV, it's a plus!
Nano Tape
This has REVOLUTIONIZED RV storage for me. I've been using Nano tape to hang things on the walls like small bamboo boxes and wooden boxes/trays. I found some super cute, lightweight wooden boxes at Hobby Lobby that I mounted on the wall with Nano tape. You can also use it to mount things like photos, wall mirrors, etc.
Nano tape is a type of double-sided adhesive tape that is made from a strong, clear material and is designed to stick to a variety of surfaces without leaving residue. It is often referred to as "magical tape" or "traceless tape" because of its strength and versatility. The tape is often made of a flexible and durable material, such as silicone or PU gel, which allows it to adhere to a variety of surfaces and hold up to a considerable amount of weight.
Nano tape is typically sold in rolls or pre-cut strips and is commonly used for a variety of household, office, and craft applications. It is often used as a substitute for traditional adhesives, such as glue or tape, and is especially useful for attaching objects to RV walls or surfaces without damaging them. It is also reusable, making it a more eco-friendly option compared to other types of tape or adhesives.
Nano tape is a type of double-sided adhesive tape that is known for its strength, versatility, and ability to stick to a variety of surfaces without leaving residue. It is an effective alternative to traditional adhesives and we love the fact that it's removable!
Coffee Pot
This might seem like a given, but if you are a coffee drinker you will want a way to make coffee while on the road! We've used all the things from french presses and Keurigs. But we keep coming back to the old-school coffee pot!
Paper Plates (Compostable)
I prefer to use paper plates when boondocking or when we need to be hyper-aware of water use. However, I do not like the environmental impact disposable things have on our earth. So using compostable paper plates is a great alternative. You can throw them away and know they decompose quickly. Which means less of a negative impact on the environment.
Plasticware (Compostable)
Being able to dispose of cutlery or cups when camping is helpful IF AND WHEN you do not have access to full hookups. Meaning you have to be conservative with both water use but ALSO with wastewater use. I prefer the compostable versions which are readily available on both Amazon and available in most grocery and "big box" stores.
Reflectix
This is a material used as insulation. It's a silver color bubble wrap material that helps to keep heat and cold out (depending on the season). We also use this material in our windows to block out light when needed at night (I prefer a very dark room at night). We have a very large piece that fits in our windshield if we are staying in an area where the sun shines in the windshield area causing a lot of heat. You can also put it on the backside of your RV cabinets to help mitigate heat from entering your RV.
Small Fans (White Noise & Other Uses)
I need white noise to sleep better at night. If we are staying overnight in a parking lot, there is sometimes extra noise that can make it hard to sleep (RV generators, vehicle traffic, etc). Using a fan for "white noise" is helpful for sleeping in these situations. Having a small fan is also great if you just need to cool off a little, dry carpet that something spilled on, etc. Overall, it's just a great little accessory to have in the RV.
Ikea Rail With Bins
The Sunnersta lineup of hanging baskets and buckets from Ikea is great for smaller spaces like bathrooms. We use this system in our bathroom for items such as toothbrushes and toothpaste. Not only does it get these items up off the counter BUT it helps with travel days. It's already up and out of the way off the counter, so there is less to have to pack up on travel days this way. This system can be used in a variety of places in an RV for storage and organizing.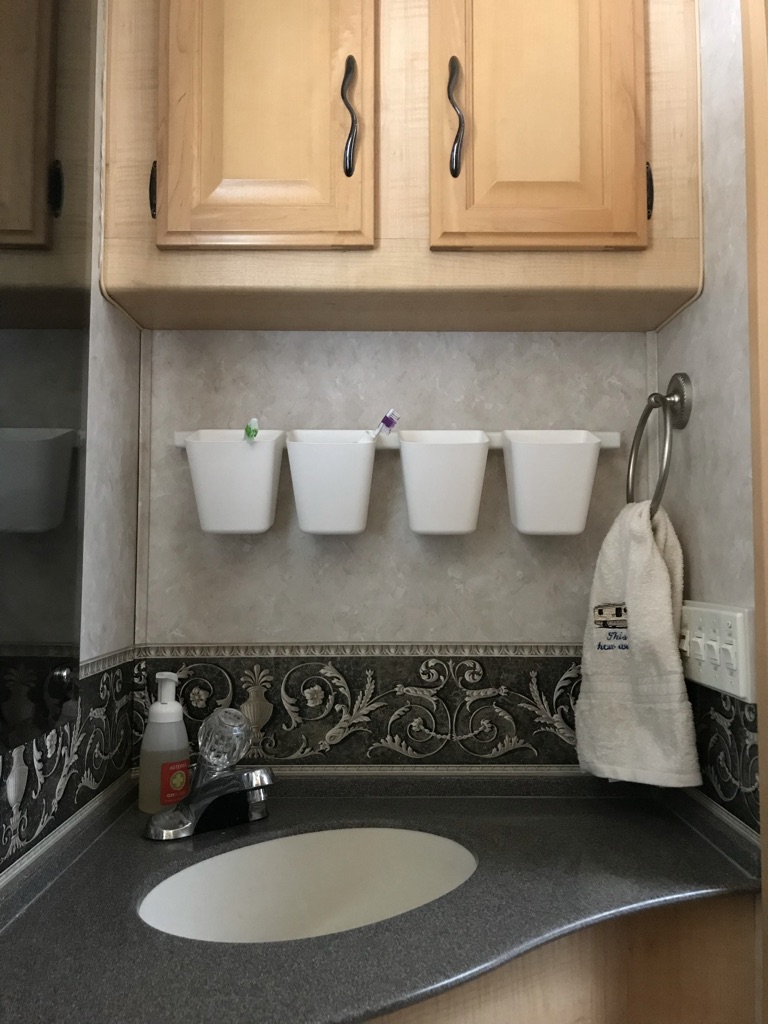 RV Toilet Paper
I know this seems like a no-brainer BUT you'd be surprised by how many RV'ers make the mistake of using toilet paper that is not a rapidly dissolving type of toilet paper. This can cause clogs in the back tank. The last thing you want is a clog of poo! Any time anything goes wrong with the black tank, it's not a good day. Every bit of prevention is worth it when it comes to keeping the back tank working properly. If you want to know if the TP you're using is a rapid dissolve, tear off a sheet of TP and put it in a glass jar with a lid. Fill with water and shake it up. If it starts to break apart and dissolve, you're good to go. If not, find a different TP to use in your RV.
Velcro Strips (Adhesive)
We used velcro strips to mount our TV. Seriously! These little strips are so handy for a variety of reasons but especially in areas where you might want to be able to remove something but hang it back up so you don't lose it (like the TV remote)!
Lithium Portable Power Station
We have two battery packs for backup power. One from Bluetti and one from Togo Power. We really like our battery pack from Togo power. We cannot tell you how many times we've needed a portable source of power for laptops while out and about in our tow vehicle. And rather than suck down the battery of our Jeep trying to keep a laptop charged while working remotely, using one of the portable power stations keep us powered when not hooked up to a power source.
Solar Panel (to charge battery pack).
Speaking of a portable power station, no off-grid power source would be complete without an "off-grid" way to keep it charged up. We have a solar panel with our ToGo station to keep it charged up – with no need for an electrical outlet.
RV Fridge Fan
This is a fan installed on the outside of the fridge. The reason you WANT a fan here is to help keep the hot air moving away from the back of the fridge and up the vent on the roof. This helps the fridge stay cooler and operate at peak efficiency. This is super important when camping in hot climates or during the summer months when it's warmer outside. We also set up a fridge fan to blow into the cooling fins to reduce icing up and increase efficiency so your food stays super cold! Quick tip – you will also want to ensure your RV is completely level. If it's not, the chemical coolant in the fridge cannot travel through the coils, not allowing it to do its job.
Micro Air RV Thermostat
This RV thermostat is a little gem and is super easy to install – it's literally plug & play. It replaces the existing thermostat in most applications. The cool thing about this thermostat (no pun intended) is that you can control it with your smartphone via WIFI or Bluetooth. If you've gone for the day and want to cool down your rig before you get back, you can bump up the A/C's before you get back. Or maybe you have a furry friend and you want to be able to keep them comfortable while you're away. There are several settings to be able to choose from, a large display, and no monthly service fees.
Govee Temperature Sensor & Hydrometer
We love this gadget because of its many uses for it. Knowing the temperature and humidity level in your RV is good information to have. Especially if you are NOT in your RV at the time. But another use we love for the Govee is being able to monitor temp inside of the fridge WITHOUT having to open the fridge door. If you are having a cooling issue with your fridge, the last thing you want to do is open the door and let all the cool air out.
But if you have a thermometer in the fridge, you have to open the door to see it. The Govee uses Bluetooth (there is also a wifi version) so you can check the temperature THROUGH things like doors, walls, etc. We also like knowing how hot it is in our overhead cabinets, closets, and more. It's a perfect little gadget with so many uses for RV Life.
Keypad Door Lock
Have you ever been locked out of your RV? Yeah, we've been there and done that. And let me tell you from first-hand experience it's not fun. Locksmiths on an emergency basis are not cheap…but I digress. Having a keypad door lock can not only help avoid this situation but also make your entry door more secure since many RVs have the SAME lock system (with the SAME key)!
Berkey Water Filter
One thing I learned from a seasoned traveler friend was the importance of the consistency of clean drinking water to maintain health during travel. Cities will use various methods & chemistry in treating drinking water. This means the water you find from city water in say Orlando, FL will be different from Nashville, TN. My traveling guru friend shared that when your body is having to filter out different things because of the inconsistency of water quality, you tend to get sick easier. We now ensure when traveling to use a good quality filter for drinking water.
Back-Up Portable RV Fridge
RV Fridges are not always 100% percent reliable. Plus if you have a larger family, the space inside an RV fridge might not be enough for weekly grocery shopping. We carry the Setpower portable fridge for a few reasons – one is it is a great backup should our RV fail. Second, it can be plugged into a power source in the Jeep. I can grocery shop while out and about and the food is staying cold in the fridge in the Jeep while we go eat at a restaurant, explore a museum, or do whatever we want to go do.
Insulated Cooler (Soft Sided)
When we are making a "day trip" and don't want to take the larger portable fridge, we use a soft-sided cooler. Plus, a soft-sided cooler is much easier to haul down to the beach! The reason we use a soft-sided one is that it's easier to fit into storage places in the RV. We've been through different types of coolers and the one downside in the past is they did not stay cold as long as a traditional hard-sided cooler with more insulation. That is until we were sent this one from BougeRV. It's comparable to the YETI brand and keeps ice frozen in hot temps all day long! It's waterproof both inside and out and get's the job done.
Back up (rear view) Camera
Our Class A motorhome has a factory-installed rear camera. But many RV's do not come factory equipped with this option. I really like having this camera for multiple reasons. One is when we are driving down the road, I can see our TOAD behind us and I know it didn't fall off somewhere. I know, sort of a given, BUT tow bars can fail, and better to catch a potential issue sooner vs. later. The other reason for having a backup camera during travel days is I can see when another vehicle is approaching from behind or on the blind spots of the RV. Likewise, I can see when the back of our TOAD has cleared a vehicle that I am passing. Lastly, when parked in a campground, I can see if anyone is behind our RV. Having cameras around is just a good idea in general.
Dash Cam
We got "braked checked" once in California, and it caused damage to our brake from having to jam them on so quickly. Evidently, some people think it's fun to pull in front of a 40,000-pound vehicle and slam on their brakes. I really wished we had a dashcam at the moment this happened so, we picked one up. Not only it is a good idea from a liability perspective but you never know when you might catch that alien ship landing at night (just kidding). But seriously, I think we've all seen strange stuff we wish we would have captured on video.
Camco Inline Water Filter
Water filters are a great idea for the water you use to wash your hands, shower with, etc. Our skin is the largest organ in our body, so what goes on in our skin will absorb into our system. Knowing that any potentially harmful contaminants are being filtered with the water you use is just a good idea and gives you peace of mind.
Travel Journal
What better way to preserve memories than by journaling about your stays? We also find these journals are a great way to incorporate language arts skills into our travels. We have the kids fill out their journals about their stay BEFORE they can jump on screens during travel days.
Collapsible Dish Rack
Anything that folds down is your friend! Some people prefer a regular-size dish rack for larger dishes, etc. Because let's face it, MOST RV's do NOT have a dishwasher (unless you count your kids as dishwashers)!
Roll Up Dish Drying Rack
I prefer a smaller dish drying option in the form of a roll-up rack. I like this because I put it over one side of the sink and then roll it up and stash it away when not in use. It takes up very little space.
RV Cover (for Storage)
If you put your RV into any type of storage situation, it's best to keep the sun off it. UV rays are hard on paint, RV roofs, and surfaces in general. Putting a cover over your RV is a good idea if storing it away for a season. Also, make sure the cover is on tight as wind will shred RV covers (ask me how I know).
Tire Covers
If our RV is sitting in parks for more than a week, we put tire covers over the tires. This protects the rubber from UV rays which contribute to dry rot and cracking. RV tires for motorhomes are NOT cheap. You want to do all you can to help them last as long as possible.
Camping Chairs
We ditched the zero gravity chairs pretty quickly because they are just too big and bulky to lug around. Our travel style keeps us moving at least 1x a week so setting up camp with a lot of stuff, tables, chairs, etc. just isn't our style. We've opted for folding Coleman chairs that we can also easily transport if we head to an event at the campground where you need to bring your chair.
Folding Ottomans
These are a great add-on to the Coleman camp chairs we use. We've also used them as a small stool for sitting if we need to be near the ground working on a project in the basement compartments of the RV, etc.
Folding Table
Having a folding table is nice if you're going to be in one place for an extended period of time. You can use it for a portable grill, outside cooking on a griddle, and more.
Clear Fridge Bins (clear)
Bins help keep food safe on travel days but it's also nice to SEE what's in your fridge at a glance. Especially for things like fruits/veggies where if you forget about them, you'll be asking yourself "what is that stank?" I've seen all sizes of clear fridge bins at places like Target, Lowes, Home Depot, etc. You can also find them on Amazon.
Clear Elbow for Sewer Hose
Now I know this sounds super gross but it's good to know when the water as you're flushing is running clear. You WANT to flush out your black tank especially well to avoid smells after dumping. Having a clear elbow for your sewer hoses allows you to be able to see that you've gotten all the poo out.
Generator
We cannot tell you how many times we've used our generator. We love having this option for power when lot docking, dry camping, and more. Even if you have a solar setup, a cloudy day can throw a wrench in your available power. A generator is a nice thing to have along for off-grid camping.
Rope lights
Many people swear by using rope-style lights to keep away rodents and other unwanted pests in their RV. While I cannot give any personal testimony to verify if this does or does not work, I will tell you it's nice to be able to at least SEE around the RV at night. And hey, it looks pretty cool too!
Tankless Water Heater
With a family of 4, we can only do about 2 showers before we let the hot water regenerate. We've been on the hunt for a tankless water heater that will work with our application, but so far no luck. Since our RV is a little older (2014) there might not be an option to go tankless….yet. But if you have the option for your RV, we'd highly recommend it!
A/C Filter
Some parts of this wonderful country are dusty! Since we also travel with animals, we need a way to keep the air ducts dust and animal hair-free. We use these disposable A/C filters and change them about 2x a month. This keeps the dust and animal hair out of the vents but ensures we have good airflow for the A/C system.
Level Gauges
These are small but they are helpful to know if your RV is level or not. Some RVs have auto-leveling systems (like ours). But even after a day or two of sitting, an RV can start to sink a little. Especially in campgrounds where the campsite ground is softer (like grass and not gravel). These can help you easily see if you're not level.
Spring Tension Rods (For Cupboards)
These little do-dads can save your noggin! That whole phrase they say on the airplane about contents shifting during flight? Yeah, the same goes for the RV on travels days too! These tension rods help keep things in place when opening cabinets after travel.
Over The Door Hooks/Rack
I have a set of these I picked up at the local Dollar Tree! You can also find them on Amazon. They are great for towels, hats, clothes, and anything you want to hang over a traditional-style door.
Collapsible Laundry Bin/Basket
It's nice to have one of these for hauling laundry back and forth from the laundry rooms at campgrounds. But it also folds away when not in use. I also find using laundry baskets to haul groceries in and out of the RV is helpful.
Vacuum Sealing Bags for Storage, Blankets, etc.
I store away the blankets we don't always need (but want to have in case we camp in a colder climate). Since space in an RV is already limited, using a space-saving bag for things like extra blankets, and winter coats create extra space by sucking out the air.
Fire Proof Bag/Safe
RV Fires are no joke. And an RV can be completely gone within minutes. We carry sensitive documents with us like passports and important repair receipts. Having these in a fireproof bag will protect you in the event that the unthinkable happens.
Small Cutting Board
I like when I find things that we call "RV Size" which really means it's just a smaller version of the "real" thing. Small cutting boards fit in the RV cabinets easily and make clean-up easy too. I've purchased them at IKEA but you can also find them on Amazon as well.
Collapsible Measuring Cups and Spoons
Who says you can't bake in an RV? I can make all sorts of things in our convection/microwave combo oven. The collapsible measure cups work well since they take up very little space in the RV. Having them on hand when I need them to whip up some biscuits and gravy is a plus!
Collapsible Bucket
This comes in handy for so many things! Washing the RV, carrying water for the dog, whatever you might want a bucket for. But the best part is it folds down for easy storage!
Headlamp
This is a must for us. I've had to take many a trek to the dumpster at the campground after dark. And wearing a headlamp for a hands-free flashlight is so much better. Especially when the dog wants to come along and I only have two hands.
Cordless, Rechargeable Vacuum
We travel with pets and kids. Need I say more? We have a central vac onboard our rig, but it's not a brush type of vacuum. So while it's great for the crevices and nooks and crannies, not so much for vacuuming up dog hair. I like the bagless, rechargeable stick vac because I can use it when boondocking too.
Air Compressor
A portable air compressor is first and foremost important if you need to air up a tire. But it's also helpful for other things like inflating paddleboards, innertubes or using compressed air to clean.
Replacement Fuse Kit
This is a must-have for RV Living. On one of our first trips out, we blew a fuse to our main converter. which resulted in a power loss and our house batteries not charging. And of course, we did NOT have any extra fuses on hand. We were not anywhere near a store of any kind that sells fuses. Since then, we've learned and now carry a fuse kit with us. Better safe than sorry, especially for RV Life!
Cabinet Shelf Liner Paper (Anti Skid)
I use shelf liner paper in so many places in the RV. On cabinets, in drawers but also under things that I will leave on countertops during travel days. It's not sliding off with the anti-skid shelf liner under it. We also have the kids use it under their laptops on travel days if their laptops are on the dinette table.
Stainless Steel or tin Coffee mugs
My Happy Camper Mug is my favorite coffee mug! Moreover, I like the vacuum-insulated ones that keep my coffee hot longer. I know not everyone likes those types, so a tin cup works just as well for RV hot drinks like coffee. Because you do not want items that can break easily, using a porcelain mug or actual glass glassware is not preferred.
Plastic Drinking cups
We use plastic tumblers in the RV because they're not going to break if they fall out of a cabinet. I've been able to find them at Walmart for 50 cents each. You can also check places like Target and Ikea.
Melamine Plates
Melamine plates are unbreakable and very durable (not microwave-safe). They are dishwasher safe if you have access to a dishwasher. I like them for the times you want a "real" plate for things like steak or chicken.
Cutlery and Kitchen Drawer Organizer
Speaking of eating a steak, if you're going to have a nice juicy side of meat you want a REAL fork and knife! I got "real" cutlery for our RV at a local thrift store for about .10 cents per piece. Super easy way to outfit your RV. I use this expandable bamboo tray to keep it all in.
Pet Fence (for kids or pets)
There was a time when Alaska decided to take off on me at a campground. It was not fun and it was a super embarrassing moment. You can watch more about it in the video below, however, if we had been using a pet fence the whole situation would NOT have occurred. We've also seen families use these style fences for younger children to create a safe space for them to play in as well.
LED Road Flare and Emergency Kit
If you've ever had to pull over on a country road in the dark, it can be a little scary. Especially when you are in a large rig or towing an RV. Having some road flares and a basic emergency kit could save your life.
Laser Temp Gun Reader
The temperature gauge on our dash went to the hot side one time. We pulled over to see what was going on in the engine area and had no clue if we really were overheating or if there was a malfunction with the gauge. We bought a laser temp reader after that. It's handy for several applications. Another use case is for checking the temperature of the fins in the back of the fridge to make sure they are cold. We can also see how cool the air coming from the A/C vents is. There are lots of uses for this accessory when it comes to RV Life.
Gorilla Tape
This is Ben's solution to almost EVERYTHING when it comes to RV living. Torn awning? No problem, grab some Gorilla tape. Tow Bar won't stay up? Gorilla Tape it. An area rug slipping around? Gorilla tape! I think you get the idea. But seriously, it's like the old farmers bailing twine. It's your "go-to" to temporarily fix most anything in an RV.
Security Cameras
We have cameras both inside and outside the RV. Since we sometimes leave the dog back at the rig, it's nice to be able to "check-in" on him to see how he is doing. So, we have an indoor camera for this purpose. We also have an outdoor magnetic mount camera where we can see what's going on outside as well. We can pull this camera down on travel days and put it up once we've arrived at our campsite.
Accessories For Fun While RVing
National Park Stickers
We love our travel map of the United States but we also realized that we will fill in all 50 states within a few years' time. So we wanted something to add to the mix to check off the places we've been. This National Park Sticker pack was a fun way to also put up a new sticker for each new National Park we visit along the way.
Daypack (for day trips)
I love my daypack for when we venture out, so I am not required to carry a purse and a water bottle separately. So I always bring a day pack for those hiking trips, trips to the zoo, or just "out and about" times. I've used the same daypack for close to 3 years now. It also has a loop on the front that is PERFECT to throw the go-pro camera on for when I have the camera with me too. It also has straps to loop through your water bottle so it doesn't fall out of the side pouch.
Inflatable Kayak & Paddle Boards
These are some of our favorite "travel life" toys! We love being in and on the water. We've taken our inflatable kayaks out on Lake Coeur d'Alene in Idaho, Boyd lake in Colorado, and more. Both our paddleboards from Crewyn and our kayaks from Intex are inflatable. Which means they deflate for easy storage and transportation. They BOTH fit in our RV basement compartments easily. We have a portable pump that we can use (electrical) but they also both come with a manual pump that you can use to pretty quickly inflate them.
Battery Operated Leaf Blower
This might seem like a strange thing to have as an RV accessory, but it comes in so handy! From blowing leaves off the tops of slides or camping rugs to blowing out the INSIDE of the rig, and more. So many uses that you will actually find come in handy for a leaf blower in RVing. We like the ego model because it's pretty high power for a battery-operated unit and comes apart so is compact enough to store in your RV.
Disposable Roasting Sticks (less mess is the best)
Do you enjoy s'mores around the campfire? We love the conversations "campfire" time brings. But no one likes sticky, messy roasting sticks after the fact. I am also not too hip to the idea of handing my kids a sharp pointed metal stick and having them stick it into a fire. So, we opted for disposable semi-pointed wooden roasting sticks. These keep kids at a safe distance from the fire, and the best part is you can just chuck the sticks in the fire pit when you're done and they burn up! Or if you want to throw them away in the garbage, they are bio-degradable. They are super high quality and strong enough to even hold hot dogs!
RV Hacks Book
What better way to learn about RV Living than from others who've been living this lifestyle? Marc and Julie Bennett from RV Love have written two books about RV Life. And their latest book, RV Hacks is chocked full of great hacks for RVers. We even got ourselves a SIGNED copy! Instead of learning about RVing in the school of hard knocks, grab a copy of their book on Amazon. We know you'll be glad you did!
RV Today Magazine
If you want to be a part of the community, find awesome places to travel in your RV, and learn about the greatest products for RVers, by RVers – then RVToday is the magazine for you! Since RV TODAY is not owned by dealerships, campgrounds, or manufacturers, you can get unbiased information on each issue. This makes a great gift for the RVer in your life too!
You'll have to let us know if we are missing anything from this list! It seems we do find super cool new RV gadgets from time to time. So leave us a comment if you have a suggestion that we should add to this post.
Check out our latest video to see the RV accessories and gear that we recommend (and don't recommend based on over 5 years of experience on the road) below!