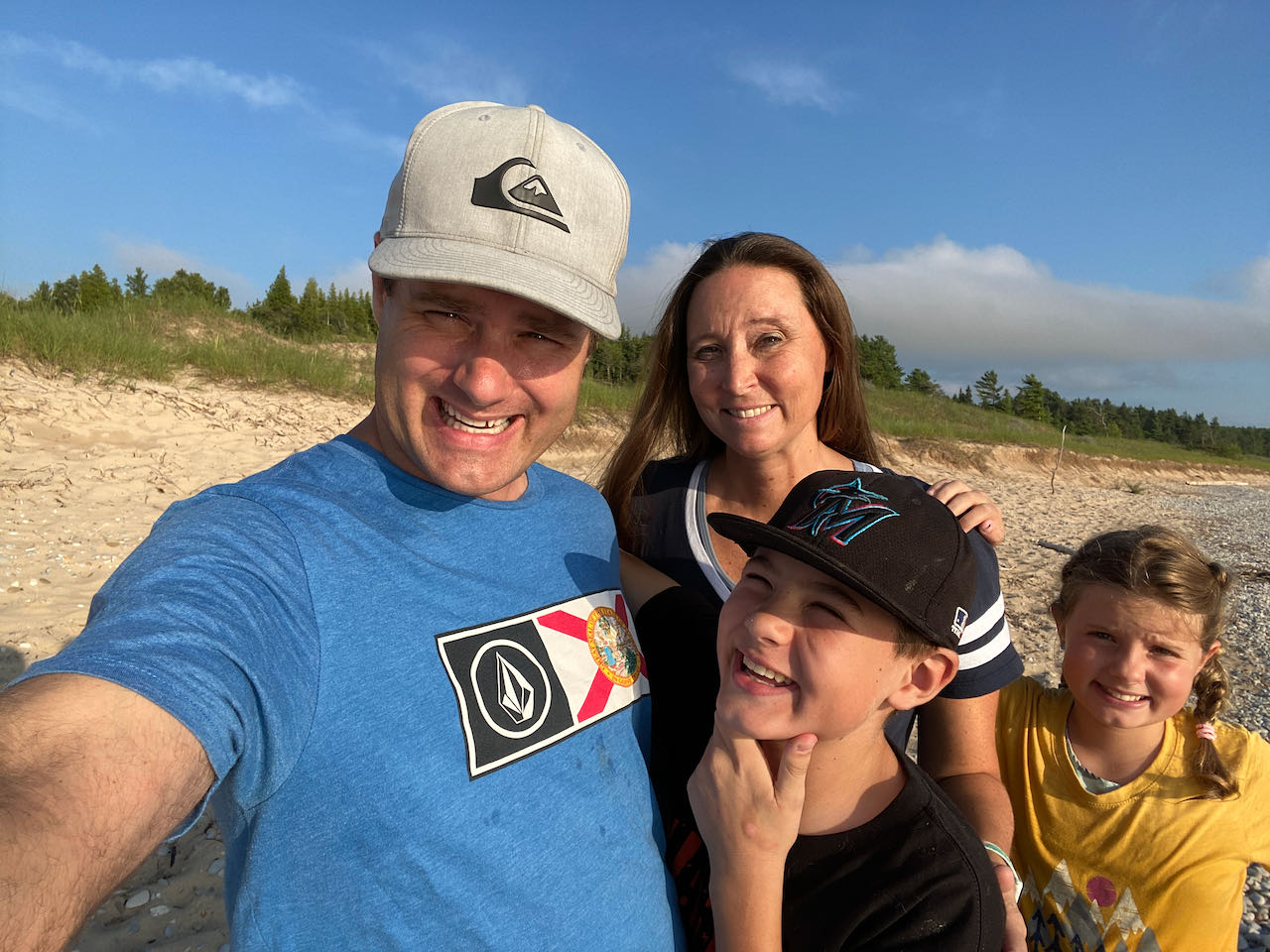 Back in 2015 we had a dream of RV travel, but we were stuck in a 9-5 grind. Living a life of travel was no where near possible during this time in our lives. We were living the "normal" American life, two kids, a dog, the house on the corner and working jobs to pay the mortgage and bills.
 Life was ok, it wasn't a super hard struggle - and we were "settled." But we really dreamed of doing and seeing more and had a deeper sense of yearning and knowing there was more…. 
We found ourselves discussing this with a couple who are really our mentors in our life. They suggested creating a vision board of what we really wanted. So we took a trip down to the local RV dealership – in January in Colorado. 
There was snow and ice on the ground. We were in heavy winter coats, hats and mittens as we began to tour RV's and talk about what RV travel would look like. Who would sit where, how we could easily make a sandwich while going down the road, who would sleep where, etc. 
 After taking a photo of our family standing in front of a Class A motorhome (which we decided was our "dream" RV) we printed out the photo and put it on the fridge. Where we could see it every day. Then we began taking steps towards starting a business that could be run from the road.
 Fast forward two years to 2017. The kids are getting older and while our online business was growing, it still wasn't at the place to replace our full time income. But we decided that we didn't want to wait to jump into RV Life. Even if for us to start, it looked like weekends or the vacation time we could take, we wanted to be able to travel in an RV with our kids before they got to the place where they were involved in school sports or even with summer jobs. So, we started looking at RV's for sale online. And we had an epiphany!  If we bought an older, used RV we could do this! We could afford something older and jump into RV Life! Not going full time doesn't mean you can't still enjoy and have fun with RV travel. 
 So in July of 2017 we bought our first RV! A 2000 Fleetwood Pace Arrow motorhome. It was a dream come true!  We were so excited to surprise the kids with the "new" RV that we made our first rookie mistake.
We grabbed some fast food and sitting in the dinette (because the first thing you do when you get a new RV or new to you RV, is eat meals in it)!
After finishing up our burgers in the dinette we took off to pick up the kids from day camp in the motorhome. Then, as Ben rounded the first corner, all the food and drinks flew off the dinette table and landed all over the floor! We started learning some lessons in the school of hard knocks, on day 1. And we laughed at ourselves and learned an important lesson. You have to be able to laugh at yourself! During our first long haul, we made many more of these "rookie" mistakes. But we were doing it! We were RVing! 
It wasn't until the next year that Ben was able to quit his "day job" which opened the option for Full Time travel. It was at this time that we began sharing our journey of travel, lessons learned, RV Life tips, campground reviews and more on our Youtube Channel.