Review of Nomad Mobile Internet for RVers (2023)
There is a brand new mobile internet option for RVers! We've been testing it out and we're super excited to be able to tell you all about it. This is going to be a game-changer and you're going to love it. 
We've been on the road for 5 years now and over the years. And during this time, we've had several mobile internet options we've utilized to keep us connected while on the road. Most recently we were using Starlink. However, after switching over to the RV Plan (to be able to pause service when we didn't need it) we noticed significantly slower speeds.
So back to "old reliable" we went with our Verizon hotspot. We have decided to switch our main internet provider since we have learned about the new Nomad Air Modem and Nomad Internet.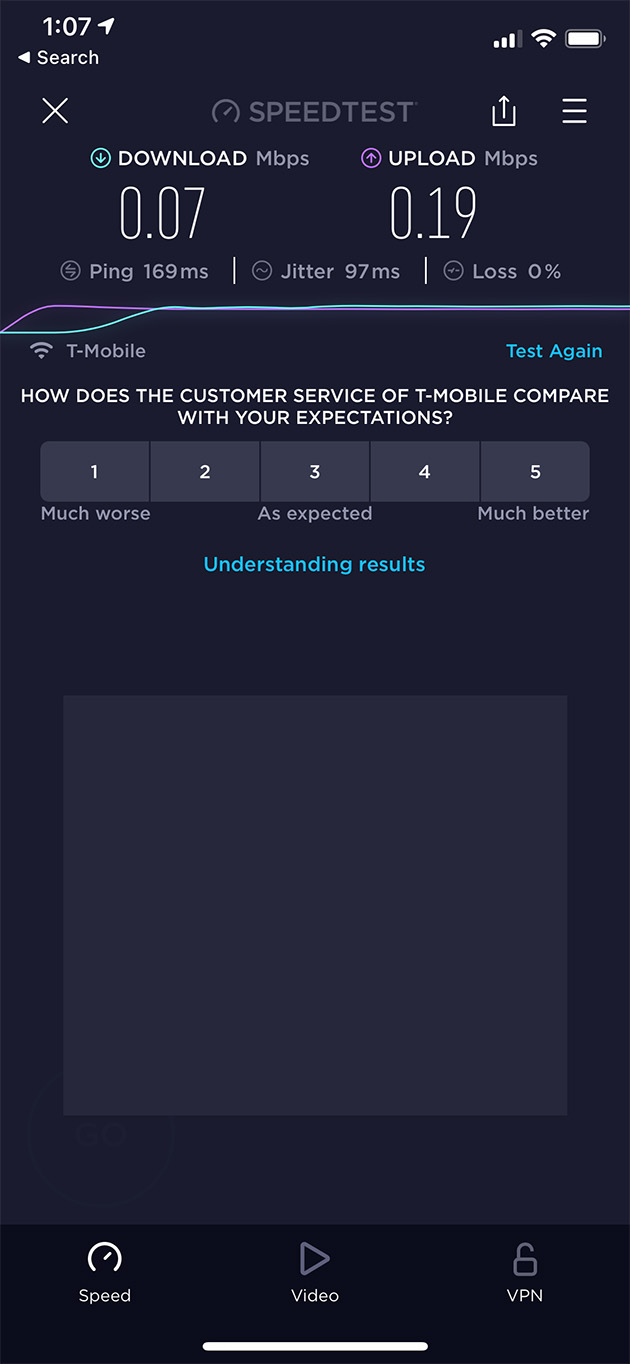 One thing that was frustrating for us in the past was we couldn't really recommend the same internet solution we were using. This is because what we used to use was a grandfathered Verizon plan that is no longer available. People used to ask about the mobile internet service we were using in their comments and messages. However, our responses didn't provide much help to them. Because they could NOT get the same plan.
The Nomad Air
But now, Nomad Internet has a BRAND new internet option. The Nomad Air is actually BETTER than the grandfathered Verizon Plan we were using and it's truly unlimited and unthrottled.
Nomad Internet is a wireless internet service provider that offers high-speed internet access to its customers through a cellular network. It provides an alternative to traditional cable or DSL internet services. Especially in areas where these services are not available or are unreliable.
Nomad Internet uses advanced technology to offer fast and reliable internet speeds. This makes it a popular choice for rural areas, remote locations, and travelers who need access to the internet while on the go. It is also a good option for customers who are looking for a flexible, no-contract internet service that they can use on a month-to-month basis.
In addition, Nomad Internet offers a range of different data plans to suit different needs and budgets. Including unlimited data plans for heavy users. Its portable modem, the Nomad Air Modem, can connect up to 20 devices. And provides internet access anywhere within the cellular network coverage area.
The Nomad Air uses C-band and has built-in antennas to the router. This enables the use of advanced high-power directional antennas to extend the reach of carrier networks. While also supporting 5G sub-6GHz and 4G LTE – you do not need any external antennas with this modem.
What Is "C Band" As It Relates To Mobile Internet?
C band refers to a range of radio frequencies between 3.7 GHz and 4.2 GHz. In the context of wireless carriers, the C band is a part of the radio frequency spectrum that is used for wireless communication services. Including cellular networks and other wireless data services.
The C band is particularly valuable for wireless carriers because it provides a balance between coverage and capacity. It can cover a relatively large area, making it useful for providing coverage in rural areas or other areas where there are not many cell towers. At the same time, it has enough capacity to support high-speed data services, such as video streaming and other data-intensive applications.
In recent years wireless carriers are seeking to their networks. All while providing faster and more reliable data services to their customers. The C band has become increasingly important in this endeavor. The C band has been the subject of much discussion and debate among policymakers, regulators, and industry stakeholders, particularly in the United States.
Our Results With Nomad Air Modem And Mobile Internet
We've been testing the new Nomad Air Modem over the past month and we are LOVING it. Speeds are great and the service coverage has been great in the areas we've traveled within.
One thing we were running into with other mobile hot spots or mobile internet modems is they needed a power source.
We can't tell you how many times we've had to jump in our Jeep and drive to an area to find an internet connection. And then connect to a battery pack to power the modem to power it up. 
Nomad Air is an all-in-one solution! And it all comes in a handy travel pack. So if you are out and about for the day you have a powered modem. Or even when Overlanding or boondocking you aren't depleting your RV batteries. 
What you get: 
A Battery Pack Provides 7 days of continuous internet
Nomad Air Modem with Built-In Antennas
Power cable to connect Battery Pack and Modem
Padded Nomad Internet Travel Bag to the first 100 people who use our code "GratefulGlamper" at checkout.
Mobile Internet While In Motion
With Nomad Air, you can have internet while your RV is in motion. This is unlike the current Starlink setup (unless you purchase the In motion Starlink dish for several thousand dollars).
What Does It Cost?
The equipment cost for the Nomad Air is $299.00.
The monthly service is $129 and you can pay as you go! There are no monthly contracts and you can pause the service when you don't need it. 
You can save 10% with the code gratefulglamper at checkout!
Thank you! Absolutely, the battery pack is not required to run the Nomad air. You could run it from the supplied USB cable in your RV since the unit would be in your RV most of the time. You could always pick up a battery pack later if you needed the flexibility to be portable (away from your rv). Glad you enjoyed the review, we are super happy with it! -Ben

I was w/in my 30 days w/ Starlink and Dishy wasn't even out of the box yet. Angered by all the changes plus $200/mo for possible throttled Starlink performance Saw your review the day you posted. Ordered right away. Returned Dishy and cancelled my backordered Flag Pole Buddy. Looking forward to testing it out

I ran across your review on this internet solution today. I was not very happy after Starlink raised their price on all of us, so now another player on the market at a better price, with more reliable connectivity. After watching your video, I ordered the nomad Air. Thank you for the discount code. Looking forward to testing this soon.

We are loving ours! Thanks for reading keep us posted on how you like it!

I am in the market for an internet source and am very glad I found this review. How does this compare to the Starlink? I know you mentioned a few things, but you still have your starlink for backup? Is the coverage just as good as Starlink? If you were to purchase just one or the other, which would it be? Thanks!

HI there, what we found with Starlink is being on the RV plan we were prioritized. It all depends on where you see yourself traveling mainly – if you will MAINLY be in very remote areas with NO cell service whatsoever, Starlink is a better option in those scenarios. If you will be mainly traveling in areas with cell service, the Nomad Air is the WAY better option. We mainly travel in areas where there is at least some sort of cell signal and the Nomad Air works better for us than Starlink in those areas.

That's a really good question. It's different for everyone, I would likely purchase the Nomad Internet because the upfront cost is less, service is good in motion without installing an expensive in-motion dish, good coverage still when under trees (unlike Starlink) and good for zoom calls (unlike Starlink). We have the Starlink rv plan that is currently paused as a backup for if we are in a position where nomad internet has no service and we need to upload a video for you guys! 🙂 There will be places where coverage is spotty, but to be honest we didn't have the best experience with Starlink as more people got the service and the further south we traveled. Plus the RV plan is deprioritized and throttled at certain times. But Starlink can essentially give you internet anywhere (except under trees), but I feel still has the feel it's in beta. So, to answer your question,I'd do both, but the Nomad may be just what you need to cover a majority of your needs. You can also pause it when not using and no contracts, so doesn't hurt to give it a shot.

Thank you for all the information, and if we were in the Eastern part of the US (East of the Mississippi) it would be great even Boondocking. We are in AZ and all of our "Boondocking" places in AZ, CA, TX, and surrounding areas we travel now still would not have coverage. Hopefully they will add more coverage for those of us in the East. Some great functions and features with them though.