How to Find Free Overnight RV Parking & Camping
Parking your RV overnight is a great way to spend a gap day or split up a longer travel string. When going from one destination to the next is a longer drive than you feel comfortable making in 1 day, finding a place to spend the night is a good idea.
Driving while fatigued is dangerous. When living RV Life, you quickly learn taking it easy and not putting on too many miles at a time makes the trip more enjoyable. So, better to be safe than sorry, and finding a place to park for the night before continuing on the next day is something we do often. It's even better when it's free to park and save on the cost of a campground! 
It used to be most Wal-Mart locations would allow overnight parking for free. Sadly, many Wal-Mart's no longer allow this. There are some GREAT places however to still find free overnight parking. And we are going to give you our tips on how we find these spots.
Using Apps to Find Free Overnight RV Parking
There are several online resources that we use to find these parking spots. Some of the apps we use include:
Where to Look For Free Overnight RV Parking
Casinos. Most casinos allow free camping. Some even offer partial or full hookups for free in an effort to get people to come in and gamble.
Movie Theaters sometimes will allow overnight parking. Since movies let out late frequently, they have vehicles in the parking until 1 and 2 am at times.
Cracker Barrel. There is usually designated RV Parking at these locations. Bonus: have a great breakfast or dinner during your stay!
Walmart. Now many of these locations no longer allow overnight parking but some still do. Check on the above-mentioned apps for the locations that still have free overnight RV parking available.
Churches. Many churches have large parking lots that are unused during the week. Call and ask if a church in the area you are planning on stopping in will allow free overnight RV parking.
Arenas and Stadiums. Many of these parking lots are HUGE and unused when there are not any events taking place.
Planet Fitness or 24-Hour Fitness. These gyms are typically in areas with large parking lots and offer parking to members.
Always call ahead and ask about overnight parking at these locations before you just show up. You can also look at reviews others have left regarding their experience at a location with overnight RV parking. (For example, if they were told no overnight parking was allowed, etc). 
Overnight RV Parking At Harvest Hosts Locations
Harvest Hosts is a membership-based website where you can find places to park your RV overnight for free. Most of these locations are farms, orchards, vineyards, etc. There are a few requirements to use these locations. You will need to arrive during the normal business hours of the location you are planning on staying at. This is so the "host" can show you where to park for the night. These locations have limited RV parking and also require an advance reservation. You cannot just show up at 10 pm, find a spot to stay and set up. These locations are all "boon-docking" only and you will need to be self-contained. (i.e. have your own bathroom, etc.)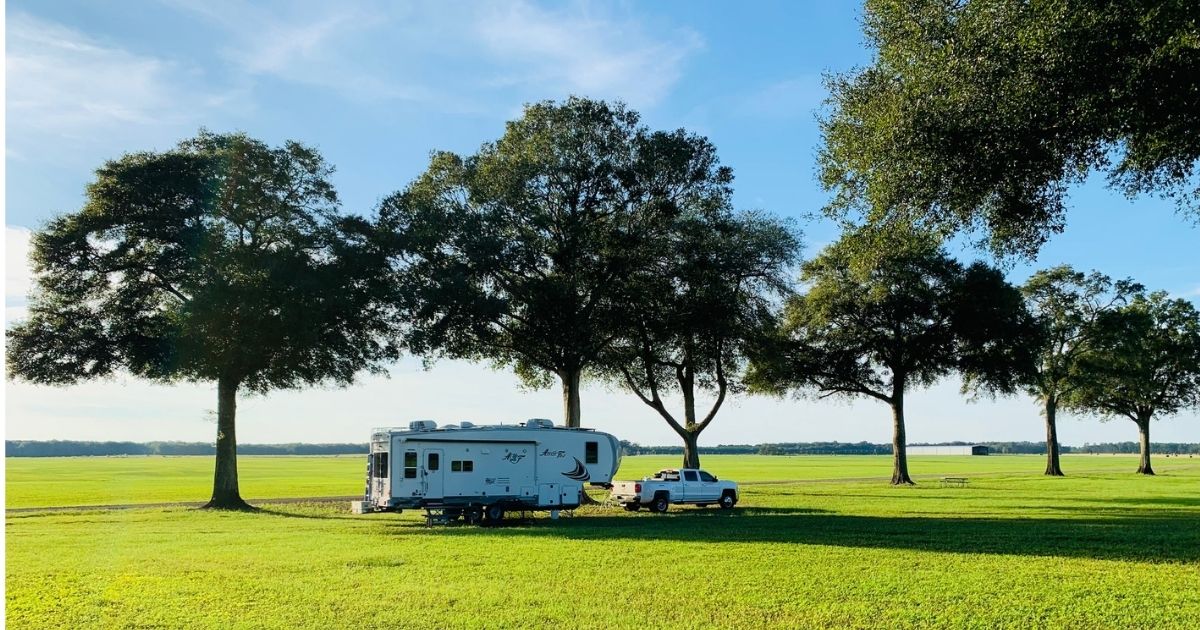 Mostly Free Overnight RV Parking
The only "cost" to using a Harvest Hosts location is that the expectation is that you will purchase something from that business. For example, if you are staying at an orchard, purchase some produce. Or when staying at a winery, purchase a bottle of wine or something from their store. This is a great way to even find maybe unique gifts for friends or family back home. We love supporting small, family businesses this way while we travel anyway. So supporting a Harvest Hosts location is a great way to have a unique experience while on the road. You can save 15% on a Harvest Hosts membership.
Our Favorite Picks For Free Overnight RV Parking
Our top pick for "lot docking" or parking for the night is Cracker Barrel. We have found ample parking, you can pull in later at night (which we tend to do) and they are most often located near an interstate. This means easy access to get both on and off the road. Our FAVORITE reason to park our RV Overnight at these locations however is breakfast the next morning!
Our second pick for free overnight RV parking is at Cabela's or Bass Pro store. These locations have VERY large Parking lots and sometimes there are even dump and water stations! You will usually find yourself with many other RVers at these locations as well. Most of the time these stores are located near a main highway or interstate so they are easily accessible.
Our number 3 pick for free overnight RV parking is at a remote rest stop or rest area. We have found rest areas located in some pretty remote areas, which means less traffic and not very busy. We once stayed at a rest area in Montana that was amazing, super quiet, and in the middle of nowhere!
Some "Do's and Don'ts" For Overnight RV Parking
Park in an area away from the main parking area. This is because you do not want to block the business parking but also so you do not get blocked in. 
Stay for 1 night and 1 night only! This is not a place to set up camp and drag out the camping chairs, set up the grill, and stay for the weekend.
Avoid dropping levelers if you can.
If you need to put out a slide to access areas in your RV, park where the slide is not going to be in the way of other parking spaces. (For example park near a curb area, etc).
Only run your generator when necessary and not during nighttime hours. 
Patronize the business! Purchase groceries when at Wal-Mart, buy a meal if at Cracker Barrel, etc. 
Where are your favorite free overnight parking spots? Or what are your favorite apps to find free overnight parking? Let us know in the comments below.